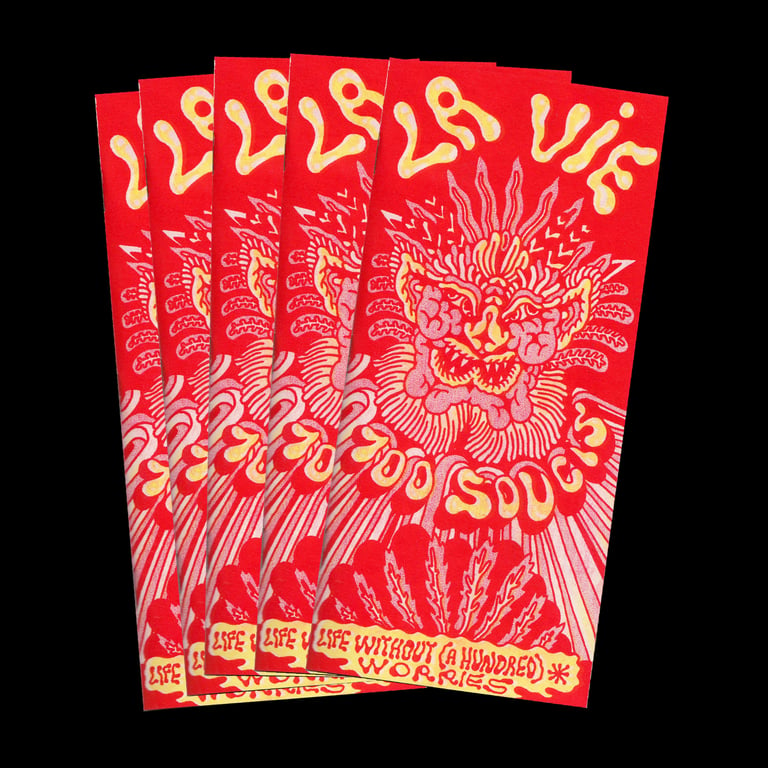 La Vie 100 Soucis RED Edition
Fanzine printed in risography
24 pages of dark humor and non sense
Limited edition 40 copies.
"On this zine's first page, a smiling man holds a long scroll: "Are you tired? Stressed? Very very tired? Without any hope? In the hole? Read me!" Towards the end, the same man, frowning now, has two heads, his body reflected over the x-axis. The scroll, upside down: "How the HELL am I supposed to read this sh*t?" Margaux Bigou's zine looks, at moments, like a comic book, but there's no legible narrative. Indeed, even Bigou's words can become barely legible as she pushes her magnificently woozy lettering to its limits.
Bigou's imagery in La Vie 100 Soucis continues her typically grotesque style, making use of body horror and twisted, masklike visages. When a semblance of a story, or a scene, at least, falls into place, it's frequently hilarious, as when a group of dolphins discuss the coming revolution: "Capitalism and this STINKY society makes me wanna die, DUDE." La Vie 100 Soucis might be too unsettling to turn to when one is "without any hope," "in the hole," but it provides its own comforts, its own distractions."
- Printed Matter, Inc
Zine imprimé en risographie, 24 pages d'absurdités et d'humour noir.
25 exemplaires
20 x 10 cm